Windonws 10 Notice:

Please MAXIMIZE the window, and then restart if you can not see the "BUILD TILE" button.
* Notice: Tile updating may delay. Tile updating behavior is controlled by system, it has many limitation, it may have display problem, but not app's bug. see FAQ
App can only create tiles and set the tiles' updating time. The app is for decorating the Start Screen. It was designed for Windows 8.


Picture Basic Instructions
1. Pin this app to the Start Screen (How To Pin Apps To Start Screen In Windows 8.1) WP version will auto pin, but need to resize manually.
2. Select a clock-tile from Local Sample or Web Library (Then restore app to full screen mode in Windows 8.1 which not support auto-restore now). Then press "BUILD TILE". Make sure to allow background task on the popup dialog.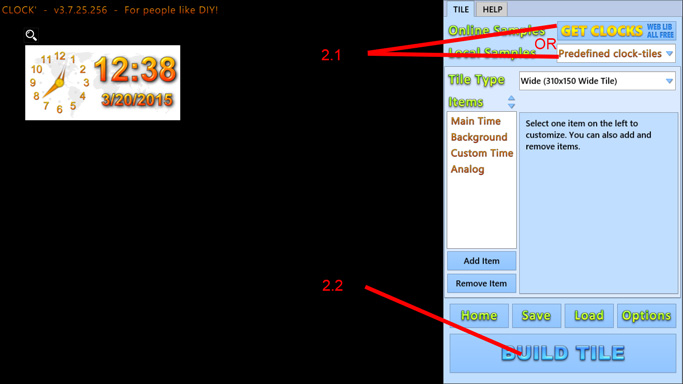 3. Change the tile of app on the Start Screen to the size type you built. And make sure to turn on the live tile.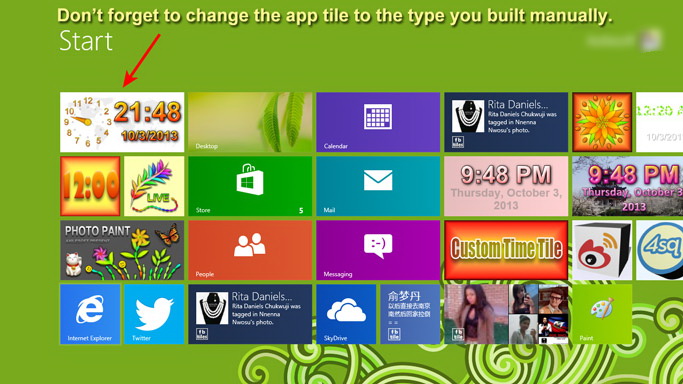 IMPORTANT!!!
Make sure to allow the background task permission in charm bar settings, so that this app is added to "Lock screen apps". You can also try restarting the system.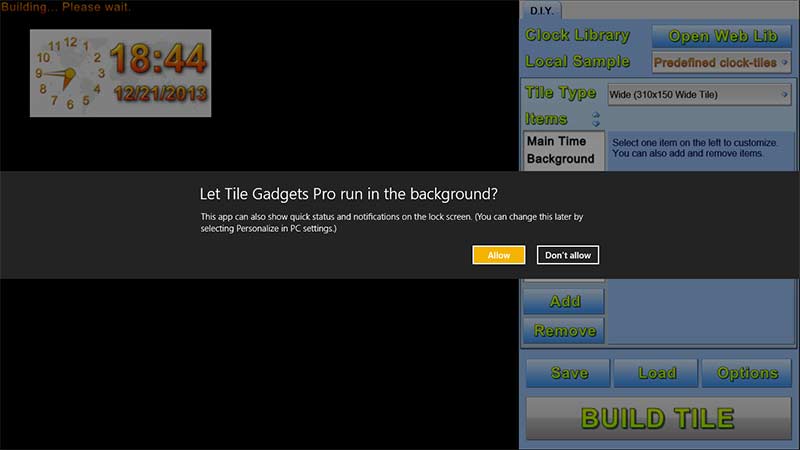 You can also turn it on again in Charm Bar (Right Side Bar)-> Settings -> Permissions.
And you can check the Lock Screen apps in system settings.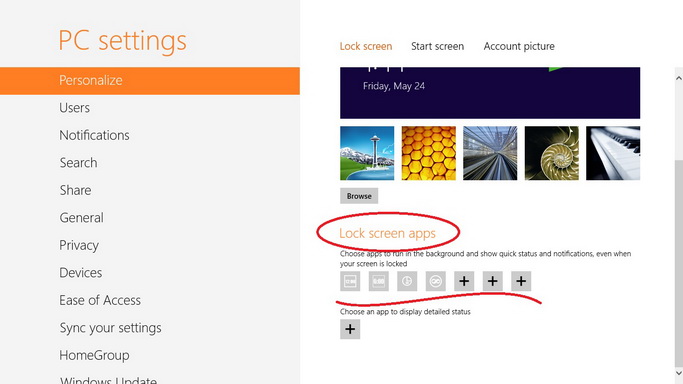 To fit analog clock, just choose a square picture.
Time Format
The Digital Time format is same as system setting, which can be set in Control Panel: "Language" (primary) and "Change date,time format" page. Set the time and date formats (long & short). Any language format can be set there.
The AM/PM part of short time is affected by long time, it's a bug of the system API (MS accepted but not fixed), not my app's bug. So you may have to set both short and long time format.
Other Notice
animation (motion) only works in snapped view mode (side window). Start screen only support static picture and it limits the display speed. They're system limitations. App can do nothing about it... Thanks.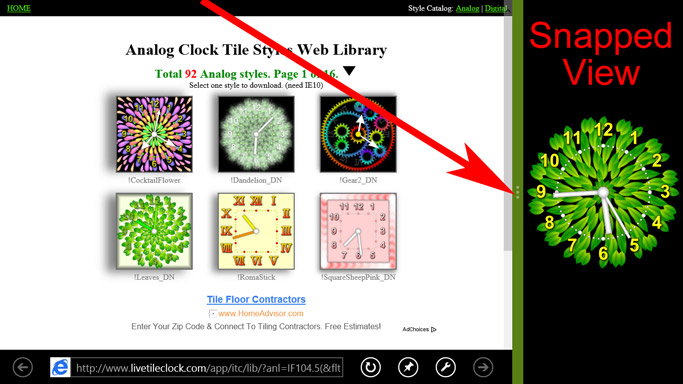 > After building, you should see the clock tile on the start screen.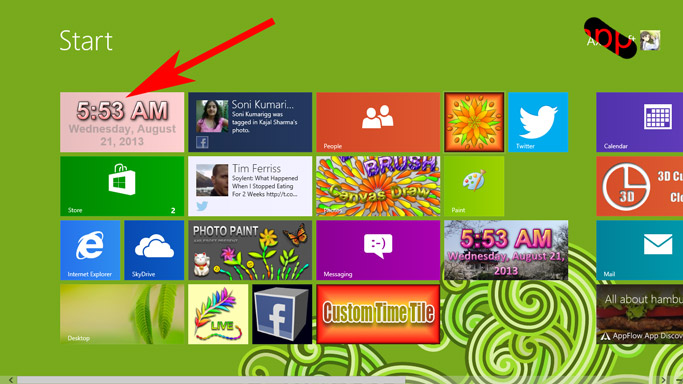 If it does not show the time, please tell more information. Don't just rate one star! It will not help, believe me. Thanks!
GET ERROR LOG
Enabled the log in Options (charm bar -> settings).  restart system (or wait an hour).  And search log in the folder:
C:\Users\[YOUR USER NAME]\AppData\Local\Packages\41038Axilesoft.CustomClockTile_wxjjre7dryqb6\LocalState
or
%LOCALAPPDATA%\Packages\41038Axilesoft.ClockTileDIY_wxjjre7dryqb6\LocalState
(copy to File Explorer's address bar, then press Enter key)
Please send me the recent .log files (pack to a zip) .  And better tell me what time it stopped.
Sometime the updating may be a little slow, but it is controlled by system, it will arrage the background task, apps can do nothing. To see a clock more quickly, just use the charm bar of system.
CAN NOT OPEN / CRASH
All Apps has passed the Windows Store Certification, so they should work on all devices of windows 8 which have no bug.
IF YOU CANNOT OPEN THE APP, OR IT CRASHES.
You can try:
Find Crash Dump. Check if there is an app's crash dump in the path: %LOCALAPPDATA%\CrashDumps

Check Error Event. Open the Event Viewer and navigate to Windows Logs -> Application. It will contain all application logs including errors, warnings and information.
If you still cannot find out the problem, you can try:
And if convenient, Please Rate 5 STARS to help us to continue. Thank You Very Much!
* This Help Page is for Windows App version, Windows Phone 8.1 App Version is similar.